A PEO in Perpetual Growth Mode
In this edition of PEO Insider, John Farnsworth (CEO) is interviewed about Stratus.hr's early history and the day-to-day culture of working for Stratus.hr.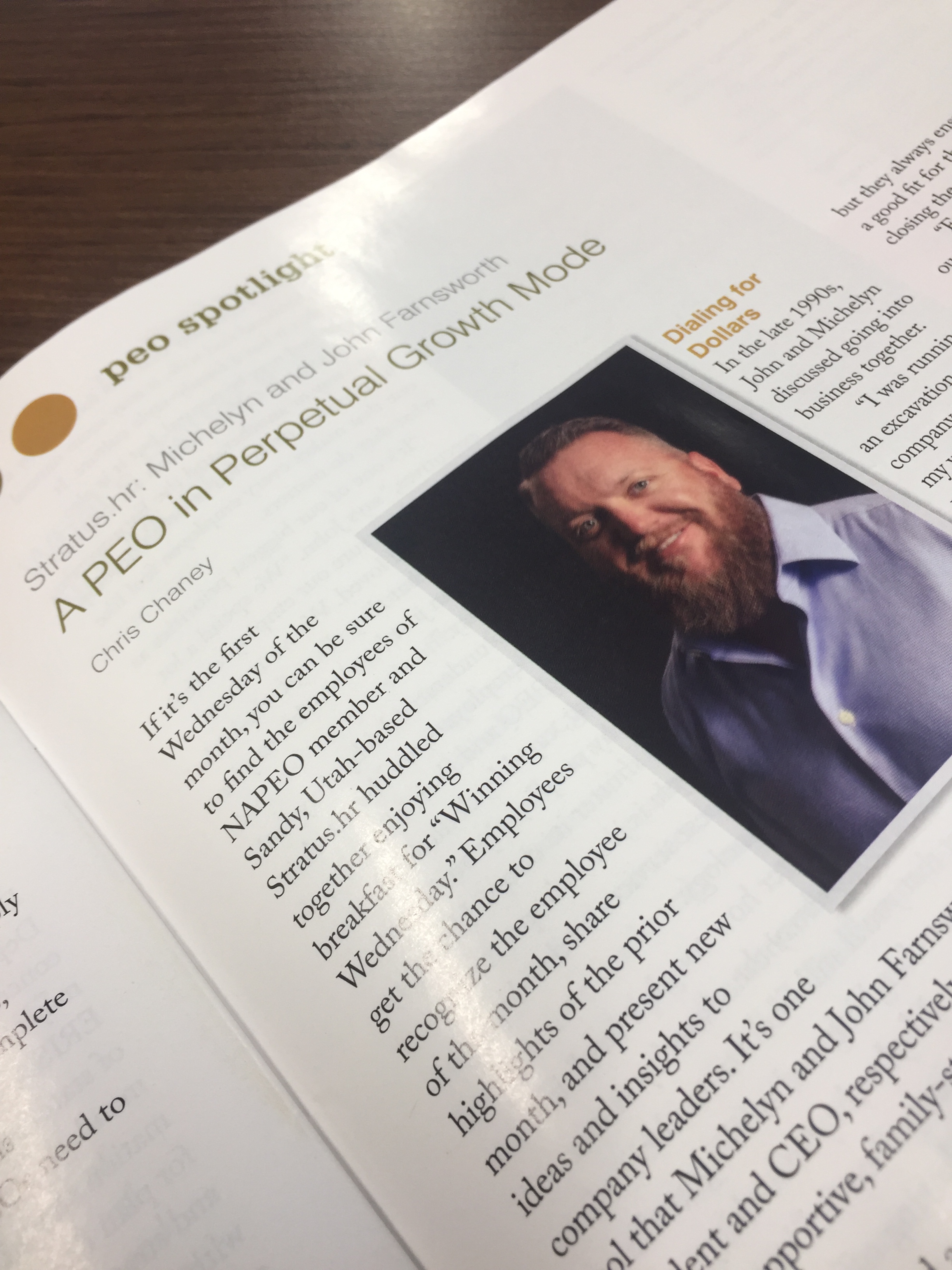 PEO Spotlight - STRATUS.HR: MICHELYN AND JOHN FARNSWORTH
PEO Insider, Feb 2019 (Reposted)
By Chris Chaney
If it's the first Wednesday of the month, you can be sure to find the employees of NAPEO member and Sandy, Utah-based Stratus.hr huddled together enjoying breakfast for "Winning Wednesday." Employees get the chance to recognize the employee of the month, share highlights of the prior month, and present new ideas and insights to company leaders. It's one tool that Michelyn and John Farnsworth, president and CEO, respectively, use to build a supportive, family-style office culture.
The husband and wife team founded the company in 1999 as Innovative Staffing, Inc. and quickly set to work growing their startup PEO into present-day Stratus.hr. Their PEO operates in all 50 states, has won numerous business awards, and just launched a fully integrated human resources management and information system, SplashTrack.
They've built a PEO centered on hardworking, dedicated, and innovative employees who act as trusted HR advisors and partners to their clients. Stratus.hr adheres to a commitment to seek out the right organization to partner with, not just any that will sign on. The company has never stopped evolving, always looking for ways to improve and deliver higher quality services.
Stratus.hr is a PEO in perpetual growth mode.
DIALING FOR DOLLARS
In the late 1990s, John and Michelyn discussed going into business together.
"I was running an excavation company, and my wife said she wanted to get into developments with me, but I said 'No, I'd really rather work smarter, not harder,'" John remembers.
The couple thought about it more and John managed to convince his wife that starting a PEO was a much better business venture for them.
"My wife had a history in the PEO industry [as one of the founders of Professional Staff Management], but I had very little knowledge," John says. "The more she educated me on PEOs, it really intrigued me."
So, in 1999, the couple began doing business as Innovative Staffing Incorporated. Even though Michelyn had a wealth of experience with PEO, they still had to begin from the ground up signing on clients.
"We started dialing for dollars the old-school way, and it was a tough sell in the beginning because we really didn't have a product," John recalls. "We were basically selling what we could do, backed by my wife's experience."
Like most entrepreneurs starting out, they were both happy to have any client who was interested in coming on board, but they always ensured the prospect was a good fit for their new business before closing the deal.
"From day one, we've required all our clients to have a personal guarantee," John says. "We would run a credit check on them and they would have to start out with 90 days of guaranteed funds."
The formula and persistence has paid off. Over the last 20 years, the company has grown steadily, now operates across the United States, and boasts a 99.37 percent client retention rate. John attributes the company's growth, in part, to the commitment to find clients who fit well with Stratus.hr. He notes that if you bring on the right clients, they'll grow and you'll grow along with them. On the other hand, there's no long-term gain to bringing on a "bad" client. It really is a symbiotic relationship.
Stratus.hr's clients are spread across blue- and white-collar industries. Most are growing businesses, and John and Michelyn feel these client company owners really understand the value of the PEO relationship and seek to use all the company's services to accomplish their business goals. The company's advanced technology offerings also help attract clients who understand the importance of modern, cutting-edge technology in today's business world.
BUILDING FOR THE FUTURE
In 2016, the company underwent a rebrand and changed its name to Stratus.hr. This decision came while the team was developing new software and started to think about the future of how HR would be managed. John and his team believed that the future was in the technology cloud, so they decided to move away from the term staffing and toward Stratus.
"We're building technology for the future clients," John says. "The ones who will expect something different. We felt that Stratus better symbolized the company's encompassing, comprehensive services. Staffing carried some misconceptions about our services."
For John and his team, technology is never a completed project; it's always evolving. The latest milestone is SplashTrack, Stratus.hr's custom built, fully integrated human resources management and information system. The cloud-based software allows clients to recruit, onboard, manage, track, and engage employees. Because the software is a supplement to Stratus.hr's services, not a replacement, clients can use it as much or as little as they are comfortable with.
"The idea for SplashTrack really started with paperless onboarding [launched in 2004]," John says. "A new employee packet could be 20 pages long filled with illegible handwriting and incorrect information. So we built a paperless onboarding system. It was certainly an investment for the company, but it created a lot of opportunities and put us way ahead of the curve."
From there, Stratus.hr would develop a mobile app and an applicant tracking system before releasing SplashTrack. Employee feedback drove most of the technological progression. John didn't want to develop new technology for the sake of creating something or addressing a problem that didn't really exist; instead, the goal has been to develop a cleaner, simpler, more efficient way to address the needs that clients face.
Because Stratus.hr was an early entrant into the technology game, the company has been able to remain on the front lines of development and can focus its attention on looking over the horizon instead of trying to catch up.
While technology certainly makes clients' lives easier, Michelyn and John believe human resources still requires a human. Technology affords clients a more hands-on approach and helps create a sense of transparency. It can also be used to foster a strong company culture, helping executives and managers better engage with their employees. On the other hand, staying on top of building new online tools also keeps Stratus.hr attractive to companies that expect cutting-edge technology.
Of course, Stratus.hr's impressive technology and benefits offerings are powered by its people, the true heart and soul of the company.
LIKE A FAMILY
For a company that was founded by a husband and wife, it may seem natural that it has a family-style culture. It indeed may be natural, but it is also intentional. Office cultures are created one way or another, and the Farnsworths have made a dedicated effort to develop one that makes every employee feel like what they do matters.
"It's one of our biggest priorities as executives," says John. "We spend a lot of time making sure our employees feel appreciated and loved. We want them to know that what they do matters—it's about more than just how much can you get done in a day."
It's easy to understand why they feel this way. Their employees are the conduit between their PEO and their clients. Without strong, capable, dedicated, and trustworthy people, any business is destined to shutter its doors. Having the right people is just as important as offering the best services or developing the best technology.
No matter how tough a week it's been or how busy the season, you can bet that you'll still find Stratus.hr employees laughing and smiling as the day goes on. Maybe they're looking forward to the next office field trip to the bowling alley, blowing off steam together at the shooting range, or perhaps someone just shared some good news.
Employees are encouraged to share ideas, suggestions, and concerns. Sometimes this is done on Winning Wednesday; other times employees take advantage of the open-door policy that John maintains. Regardless of where or how their thoughts are shared, employees know they will be listened to. It doesn't mean that every idea is immediately tackled or that a new process is developed right away, but it does mean that their voices matter. It means that at the end of the day, "human" is still the most important part of the human resources industry.
Chris Chaney is member communications manager for NAPEO, Alexandria, Virginia.
This article has been reposted from its original source of PEO Insider.
Stratus.hr is featured in the February, 2019 edition of PEO Insider.
Related articles: