Salt Lake Tribune Names Stratus.hr Winner of Utah Top Workplaces 2021
For the second year in a row, Stratus.hr has been named a Utah Top Workplace for 2021 by the Salt Lake Tribune.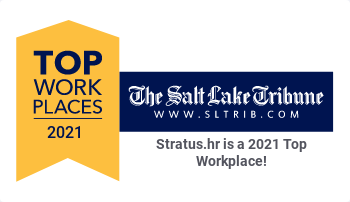 Sandy, Utah November 3, 2021 - Stratus.hr was awarded this morning as a Salt Lake Tribune Top Workplace for 2021, a prestigious award that is based solely on employee feedback. Workers' responses were gathered and analyzed by employee engagement technology partner Energage, LLC to determine winners.
"There are dozens of awards out there recognizing business growth and success. I know because we've been there," said John Farnsworth, co-owner and CEO of Stratus.hr. "But winning Top Workplace for the second year in a row, knowing its merit is 100% based on employee input --- that's really special. I couldn't be prouder."
The anonymous survey uniquely measures 15 culture drivers that are critical to the success of any organization, such as alignment, execution, and connection, among others. After giving their genuine feedback, employees ultimately judge whether their company qualifies for the award.
"During this very challenging time, Top Workplaces has proven to be a beacon of light for organizations, as well as a sign of resiliency and strong business performance," said Eric Rubino, Energage CEO. "When you give your employees a voice, you come together to navigate challenges and shape your path forward. Top Workplaces draw on real-time insights into what works best for their organization, so they can make informed decisions that have a positive impact on their people and their business."
That's exactly the culture in full bloom at Stratus.hr. "Our key to success is our employees," said Farnsworth. "We're people helping people. We know we must win at the workplace before we can win at the marketplace. This award just gives extra validation that what we're doing internally is working. I'm truly honored."
About Stratus.hr
Stratus.hr® is headquartered in Sandy, Utah, and offers an alternative to a full-time HR department at a lower cost, solving problems in the areas of payroll, benefits administration, human resources, workers' comp, and HR software. When companies partner with Stratus.hr, they increase their profitability, maximize employee productivity, save time spent on transactional HR, reduce employment-related liability, and ultimately lower their labor costs.
In addition to being a Utah Top Workplace (2020-2021), Stratus.hr has won recent awards that include Best Companies to Work For, Salt City Best, and Best Business Consultants. Stratus.hr was also credibly rated in September 2021 by ClearlyRated with a Net Promoter Score (NPS) of 67.6 when the industry average NPS is 41, indicating a significantly better experience for clients who choose Stratus.hr over their competitors.
Learn more at https://stratus.hr.