Stratus HR Named a Utah Top Workplace for 2022
For the third year in a row, Stratus HR was named a winner of the 2022 Salt Lake Tribune's Utah Top Workplaces based on anonymous employee feedback.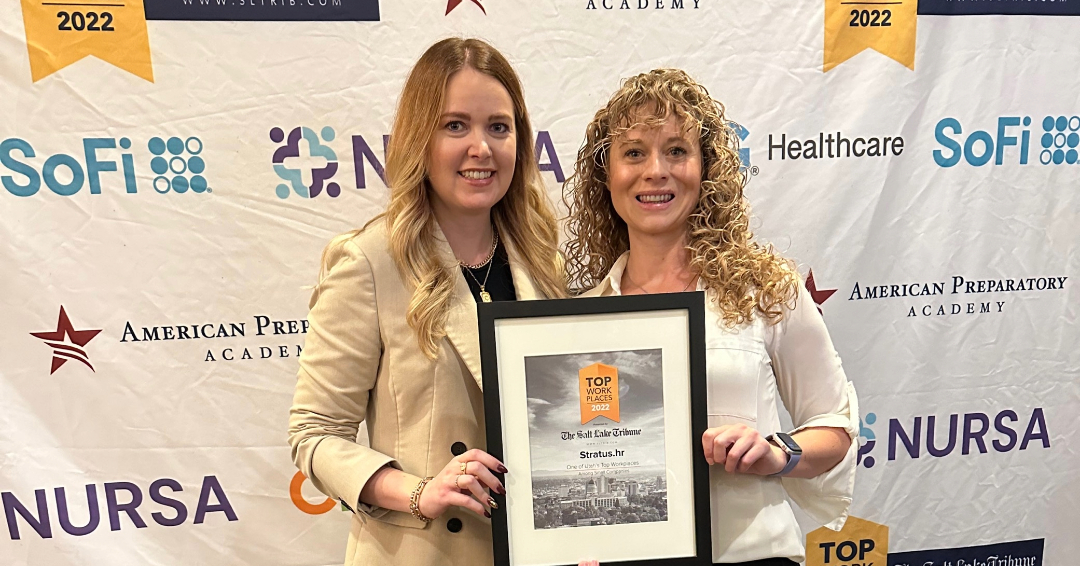 Sandy, Utah, October 31, 2022 – Stratus HR was just named a winner of the Salt Lake Tribune's 2022 Utah Top Workplaces. This makes three years in a row for Stratus to have achieved this top honor.
"I cannot say enough good about our entire team and workplace culture here," said John Farnsworth, CEO of Stratus HR. "To be a three-peat, back-to-back-to-back winner is special. I'm extremely proud of our staff and honored for this great recognition."
Winners are based solely on employee feedback gathered through a third-party survey administered by employee engagement technology partner Energage LLC. After employees complete anonymous surveys, their results are compared with like-sized companies in their regions. Companies with the highest overall scores are considered Top Workplaces.
"I've heard a lot of seasoned business owners say these last three years have been some of the most difficult and grueling years ever of being an employer," said Farnsworth. "I know where they're coming from, and it's easy to get stuck in the trenches. But I believe that if you have the right culture, good things will happen. This recognition reaffirms that."
Utah Top Workplaces winners were announced publicly at a special ceremony at the downtown SLC Hilton on Wednesday, October 26, 2022, where each company was individually recognized for their achievement.
"Earning a Top Workplaces award is a badge of honor for companies, especially because it comes authentically from their employees," said Eric Rubino, Energage CEO. "That's something to be proud of. In today's market, leaders must ensure they are allowing employees to have a voice and be heard. That is paramount. Top Workplaces do this, and it pays dividends."
ABOUT STRATUS HR
Stratus HR is the PEO (Professional Employer Organization) of choice among small to medium-sized businesses. By partnering with Stratus, clients gain the support of an entire HR team and the healthcare benefits of large organizations at a fraction of the cost. Stratus provides the best custom-built software made by seasoned HR experts to absorb transactional tasks and position their staff as the true heroes. With software that boasts an intuitive user interface and a best-in-class service team, clients access helpful resources to assist with hiring, employee management, payroll, and best practices and advice from their behind-the-scenes Stratus HR experts.
ABOUT ENERGAGE
Making the world a better place to work together.TM
Energage is a purpose-driven company that helps organizations turn employee feedback into useful business intelligence and credible employer recognition through Top Workplaces. Built on 16 years of culture research and the results from 27 million employees surveyed across more than 70,000 organizations, Energage delivers the most accurate competitive benchmark available. With access to a unique combination of patented analytic tools and expert guidance, Energage customers lead the competition with an engaged workforce and an opportunity to gain recognition for their people-first approach to culture. For more information or to nominate your organization, visit energage.com or topworkplaces.com.