COVID-19 Vaccine Mandate for Companies with 100+ Employees
A new regulation requires companies with 100+ employees to have all staff receive the COVID-19 vaccination or be tested at least weekly.
Other blogs you may be interested in: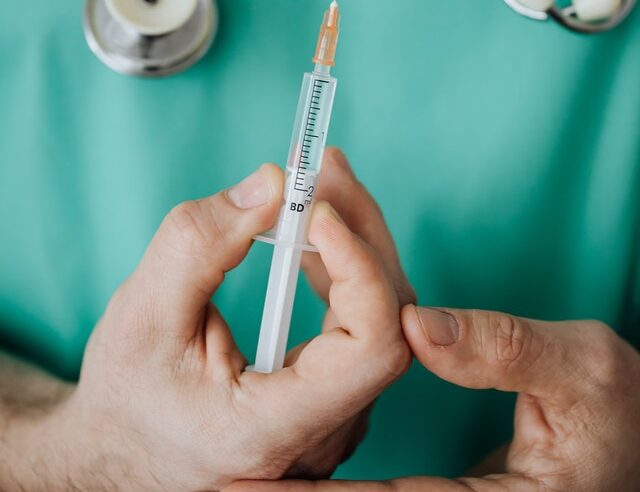 Updated January 13, 2022: The Supreme Court of the United States (SCOTUS) has blocked OSHA's Emergency Temporary Standard (ETS) regarding the COVID-19 vaccination or weekly testing mandate for employers with 100+ employees.
On September 9, 2021, President Biden announced a new COVID-19 vaccination requirement for all businesses with 100+ employees to require vaccinations or be subject to weekly testing. Health facilities that accept Medicare or Medicaid funding are also required to have vaccinated workforces.
President Biden also signed an Executive Order for federal staff to no longer opt out of vaccination by simply being tested regularly. These employees must be inoculated or face disciplinary measures.
When does the vaccine mandate take effect for private employers?
(Updated November 8, 2021)
The Occupational Safety and Health Administration (OSHA) issued an Emergency Temporary Standard (ETS) on November 5, 2021, which is the effective date of the standard. Companies with 100+ employees now have 30 days (December 5, 2021) to become compliant with everything encompassed in the standard, with the exception of testing employees. Companies have 60 days from the effective date of the ETS (January 4, 2022) to become compliant with the testing requirement.
OSHA anticipates the ETS to be in effect for six months from the date of publication in the Federal Register while they work on a final standard. As part of the requirement, companies must provide paid time off for workers to get vaccinated and recover from any side effects of vaccination.
How often must unvaccinated employees be tested?
Unvaccinated employees who work for companies with 100+ workers must be tested for COVID-19 at least once a week, per this new requirement.
Is this vaccine and testing requirement only for on-site employees?
The language says unvaccinated employees must "produce a negative test result on at least a weekly basis before coming to work." Per the OSHA Emergency Temporary Standard," the requirements do not apply to employees:
Who do not report to a workplace where other individuals such as coworkers or customers are present;
While working from home; or
Who work exclusively outdoors.
What is the penalty for a company's non-compliance?
(Updated November 8, 2021)
It was initially estimated that businesses that ignore the policy may be penalized up to $14,000 per violation. However, because some large corporations may not be impacted by this small of a violation, the ETS says the following:
"OSHA has adopted its 'egregious violation' policy to impose sufficiently large penalties that achieve appropriate deterrence against bad actor employers who willfully disregard their obligation to protect their employees when certain aggravating circumstances are present, such as a large number of injuries or illnesses, bad faith, or an extensive history of noncompliance (OSHA Directive CPL 02-00-080 (October 21, 1990)). Its purpose is to increase the deterrent impact of OSHA's enforcement activity. This policy utilizes OSHA's authority to issue a separate penalty for each instance of noncompliance with an OSHA standard, such as each employee lacking the same required protections, or each workstation lacking the same required controls.'
What is the penalty for employees' non-compliance?
Employees may be subject to disciplinary action for non-compliance, up to and including termination.
Are there any exemptions to this policy?
(Updated November 8, 2021)
While employees may have a religious or medical exemption to this policy, employers may adopt an "alternative policy that allows employees to choose to either be fully vaccinated or to be regularly tested and wear a face covering."
When does the vaccine mandate take effect for federal employers?
All federal employees and employees of contractors that do business with the government must receive the COVID-19 vaccine within 75 days of signing this Executive Order, which is November 23, 2021.
How should my company comply with this order?
(Updated November 8, 2021)
Now that OSHA has published the ETS, employers must inform employees in a language and literacy level that is understandable to them about the requirements of this standard and any employer policies and procedures to be compliant; information about the COVID-19 vaccine efficacy, safety, and the benefits of being vaccinated (see "Key Things to Know about COVID Vaccines" from the CDC); their employee rights; and criminal penalties for providing false information.
Please contact your Stratus.hr HR Consultant for sample policy language, best practices standards, and guidance with compliance. Ready for help with the HR side of your business? Book a consultation and our team will contact you shortly!