3 Ways Your Small Business is Losing Money on HR
If you're a small business or startup, you may unknowingly be spending more on HR than you should. Here are three pitfalls and how to make them advantages.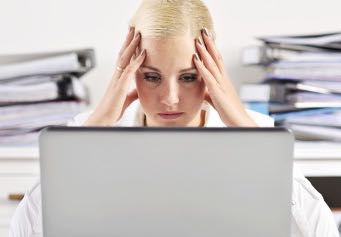 Human resources tasks can add up to big costs for any company, but they're particularly pricey for small businesses and startups. If you're doing any of the following, your company is likely spending more than required, but don't worry -- there are ways to reduce the costs of your small business's HR and maybe gain a few other advantages, too.
#1: You manually sort through applications and resumes.
A single job post can bring in hundreds of applications, but if you, your HR team or your managers are weeding through the stack yourself, you're throwing away time, productivity, and ultimately, cash.
Sure, stats say recruiters spend only six seconds on each resume. But the reality is that the entire applicant-review process consumes considerably more time. This is time that could be better spent elsewhere, as multiple team members and managers review resumes, conduct interviews and assess qualifications.
The alternative to manually selecting applications is an applicant tracking system (ATS), which pre-screens in the application stage to push forward only the people who meet key criteria. It also allows individual team members who interview the applicant to add their assessment directly into the system. This helps speed up hiring, which solves another problem for businesses: having too long of a process (currently an average of 52 days) that leaves great, qualified candidates open to other offers.
The main drawback for a small business wanting to use an ATS is the cost of the ATS itself. While time savings easily offsets ATS expenses for large employers, it's harder to justify for employers that don't hire frequently. However, some HR outsourcing partners include the option of an ATS for their clients. It's one of the most affordable ways for small businesses and startups to get the same technology on a scalable level.
#2. You view HR as a set of tasks, not a resource.
Payroll, PTO balances and W-2s. If you view your HR functions as just that -- tasks that need to be completed or apps you subscribe to -- you're missing the cost-saving potential of a human resources team.
To help your business save money, your HR professionals should also do the following:
Risk management: As companies grow, risk increases. An HR team should stay on top of regulations and other staffing concerns that affect your business with each added staff member and ensure steps are taken so the company is protected.

You can read more about HR's risk management responsibility in the white paper,

5 Ways Risk Increases as Your Company Grows.
Compliance updates: When rules and regulations change, your HR team should ensure your business is up to date and fully compliant to reduce potential conflicts and fines. An internal expert who is always aware of which changes affect the business directly will also reduce the potential for non-compliance fines and needless compliance (to ensure your business isn't spending to comply with a policy that doesn't actually affect you). Having an internal expert allows other individuals within the organization to remain focused on business-building roles rather than juggling the latest policy decisions.
Retention solutions: Attracting and retaining valuable employees is at the top of the wish-list for most companies. Your HR team should handle onboarding and management training and know hiring trends in your market and industry to ensure your business doesn't lose valuable talent to larger businesses.
While a single HR generalist may be able to accomplish all of these tasks for a business, small businesses are often better served by outsourcing HR to a Professional Employer Organization (PEO), which handles both traditional HR tasks (i.e., payroll, benefits administration, employee assistance), and has experts in place that ensure businesses remain compliant and employee management functions are covered. A PEO will often provide all of these services to a small business at a lower cost than hiring a team of internal experts.
#3 You pay for health insurance … or you don't.
Health insurance can be a win-win or a lose-lose for small businesses, depending on how you look at it. But if you don't provide health insurance benefits, your business is guaranteed to face more difficulties recruiting talent and may lose key employees to larger employers with robust benefits plans.
On the other hand, if your small business does provide health insurance benefits, you may be paying too much, particularly if you work through an insurance broker that can only offer small group plan options (note: if you're in a lower-cost grandfathered plan, you'll be required to switch to a costlier plan by 2018).
There are additional cost-consuming factors associated with employer-provided insurance plans, such as:
Finding time to shop for the best plan each year or whenever a switch is deemed "essential" or "urgent"
Providing education to employees about the company's insurance plan
Answering employee questions and concerns
Assuming non-compliance risks associated with company size and regulation changes
According to a survey by Bentley University, 96% of millennials stated that they'd take a new job if it offered better benefits -- a crippling statistic for most small businesses, which have few options when it comes to affordable health plans. Additional research indicates that benefits overall are the second highest priority of workers today, topped only by job security.
One way to solve cost/competitive concerns linked to small business health insurance is to work with an outsourced HR provider that can help the company join a large group policy, which frequently offers lower rates, increased market stability and better options for the insured. The best option for these is through a PEO that can aggregate employees from all of its clients to qualify for large-group rates. Other resource-consuming responsibilities, including annual plan shopping and employee education and access to information, are addressed by the best PEOs.
The answer to reducing HR-related expenses for small businesses is not to cut services. The focus for every small business should be to find creative solutions that allow for expanded human resources services, and to do it all in a more efficient, cost-conscious manner.
A survey by the Society of Human Resource Management notes that the recruiting process often fails to net the desired qualifications in applicants. More than 50% of human resource professionals reported knowledge deficits in job applicants and said that 84% of applicants were missing key skills required for the job.
Some industries report even greater impacts: The Solar Foundation, for example, reports 65% of employers experienced increased costs linked to difficulty in finding qualified workers and 68% stressed that this impacted their company's ability to grow. Thirty-nine percent of the same employers stated that delayed hiring cost more than $10,000 per open position.There are other benefits of working with a PEO, as reported in a 2016 study by NAPEO, including:
Stronger employment growth rates

Savings of 35% on HR administration

Reduced likelihood of going out of business YOY

Lower turnover rate by 10-14%