company growth
Is a PEO or ASO better for business? Comparing options
When comparing small business options, how does an ASO compare to a PEO and why would a company choose one option over the other?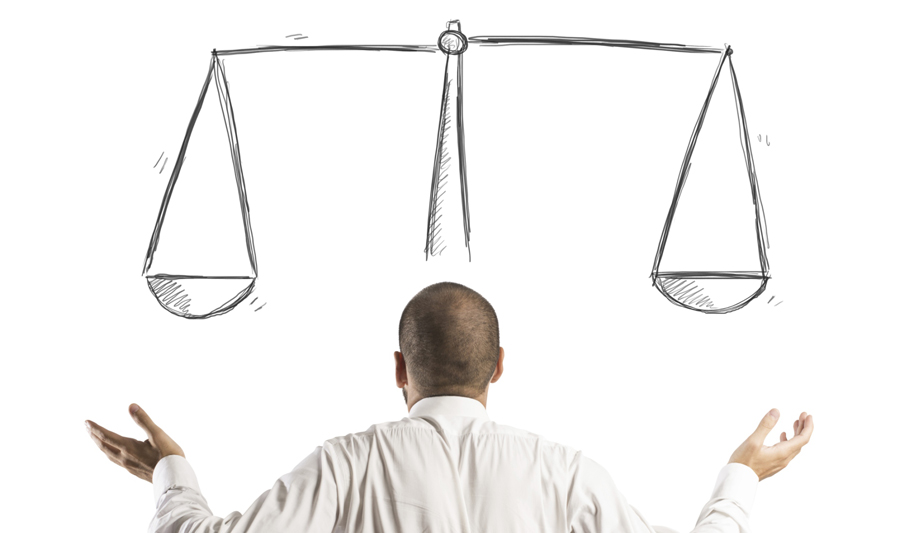 You want an HR solution for your business -- something beyond a payroll manager -- so you're looking at ASOs and PEOs. But which option is better for your organization? Finding the answer isn't always so simple.
It's estimated that between 14% and 16% of all small businesses work with a PEO, which offer full-service HR solutions, but not every business requires or wants to have a co-employer contract with a PEO. It's for this reason that ASOs were developed by PEOs in the 1990s. Yes, the pair go hand-in-hand, although a business only needs to work with one or the other.
Definition and responsibilities of a PEO v. ASO
PEO defined: A PEO is a Professional Employer Organization that enters into an arrangement with a small business to provide all services related to human resources. Your PEO can handle payroll, benefits management, workers' compensation, as well as internal (think company policies) and external (local, state and federal laws) compliance, among other services.
PEOs work with clients through a "co-employment" arrangement, which shifts the employer of record for each of the client's employees to the PEO. What that really means is that payroll checks, W-2s, benefits, and related tax filings are filed under the PEO's employer identification number (EIN) rather than the client's. Other services including onboarding, background checks, workers' comp, risk management, PTO tracking, applicant tracking systems (ATS), retirement plans, management training, employee handbooks, and more are also handled by the PEO. One of the greatest advantages for a business using a PEO is mitigating risk by running everything through the PEO. There's also access to lower-cost benefits with a wider variety of benefit plan options they can offer employees. The PEO lumps together all of its clients' employees to help every client take advantage of economies-of-scale products and administrative services.
PEO costs: The cost to partner with Stratus HR as your PEO is based on your company's needs assessment, conducted by one of our Business Development Consultants. Not all PEO pricing structures and service options are the same, so it pays to shop around. Our Stratus team can give you a free quote customized to your specific needs.
ASO defined: An ASO, or Administrative Services Organization, provides most of the same services as a PEO for a client, while the client remains the employer of record. Payroll, W-2s, insurance and tax filings are filed under the client's EIN, although the ASO still processes each one. While most ASOs do not provide access to affordable insurance options for clients, a few, including Stratus, do.
In general, ASOs are ideal for companies that just want HR and payroll services conducted by an expert team at a more affordable rate than hiring in-house. Most clients who work with ASOs aren't seeking liability protection (note that some ASOs, including Stratus, offer economies-of-scale benefit options to ASO clients).
ASO costs: Our Stratus HR ASO pricing depends on the level of service wanted. We offer a full-service ASO option that includes all the same HR services, large-group benefit plans, and digital tools as provided under the PEO model, and costs the same as our PEO services. Our "standard" ASO model provides basic payroll and scaled back HR services, along with large-group benefit plan options, and is available at a lower cost. Our Stratus team can give you a free quote customized to your specific level of service.
Similarities in a PEO and an ASO for human resources outsourcing
Both PEOs and ASOs assist small businesses with human capital management. Clients tap into fully staffed, highly experienced HR teams that require no training by the client and can handle any scaling up or down a client may require. Frequently PEOs and ASOs offer tech tools and employee portals, as well as other human resources outsourcing options, that help small- and medium-sized businesses be both competitive in terms of recruitment and employee retention, and function comparably to large-corporation HR teams. Some also provide visualizations that allow managers and owners to see a big-picture overview of employee staffing and how it impacts other business aspects.
Differences between PEOs and ASOs
The key differences between PEOs and ASOs come from the level of risk a company retains in terms of human capital management. ASOs require employers to retain more of their own risks, while PEOs harbor most employee management risks for the client.
Other key differences between a PEO and an ASO may include:
Access to more affordable insurance options -- PEOs provide this service, while only select ASOs do.
Consultative approach to HR -- PEOs frequently act as an HR partner and resource for their clients and can offer advice and guidance on numerous subjects, while ASOs may only have simplified HR and administrative services.
Training, employee handbook, onboarding, and guidance regarding hiring, termination, and compliance issues -- PEOs act as a full-service HR team and can provide guidance, in addition to all related HR services. Companies (such as Stratus) may also provide this under an ASO model, but it's not industry standard.
Costs -- PEOs at face value may appear to be more expensive than ASOs. However, costs associated with time savings, reduced risk exposure, and client protection services typically make a PEO the more cost-effective option for small businesses in the long-run.
Tax filings -- PEOs shift all client employees to the PEO's EIN for tax purposes, which also shifts the related liability risks. ASOs keep employees on the individual client company's EIN.
How to determine whether your small business needs a PEO or an ASO? Research
Both ASOs and PEOs can play a valuable role for businesses of all sizes. Options should be assessed carefully, as should references for any organization that provides payroll services, HR outsourcing, benefits options and more. Working with an HR outsourcing provider that offers both PEO and ASO services can help ensure a company gets only the services it needs and the level of support it requires, while retaining the ability to scale up or down to a different level of service with minimal disruption.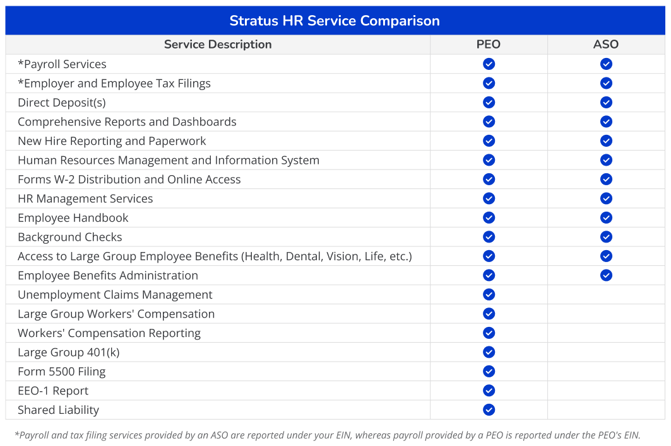 Use this chart to learn more about how ASOs and PEOs compare.
Is outsourcing right for your business? Find out today and book a consultation! Let Stratus.hr give you a free quote customized to your specific needs.