company culture
Transform "Blue Monday" into "Motivation Monday"
Are your employees feeling down for Blue Monday? Take the bull by the horns and turn it into a Motivation Monday by implementing these ideas!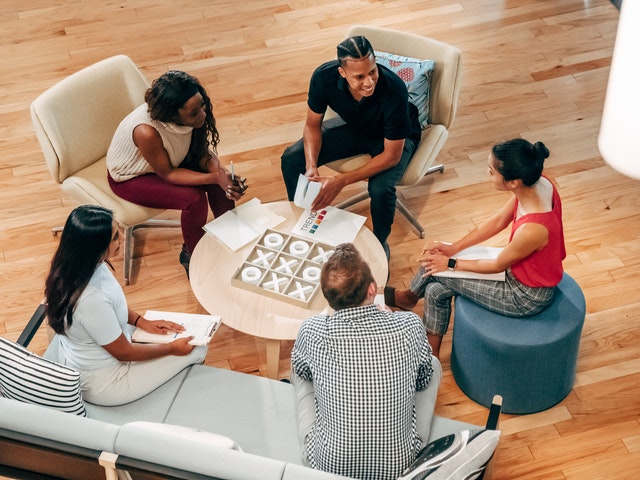 Back in 2005, a British travel company (Sky Travel) designated the third Monday of January as the gloomiest day of the year, calling it "Blue Monday." Considering the weather is cold, daylight is minimal, credit card payments are due for Christmas purchases, and New Year's Resolutions have already been broken, it's easy to see why so many might feel depressed and demotivated this time of year.
Truth is, Blue Monday was started as an advertising campaign to boost sales. While some may have since adopted it as truth, you can counterattack with these workplace ideas to create a "Motivation Monday" instead.
Blue Monday Activities at Work Ideas
1. Praise Employees
Set aside some time to send personal emails to each of the employees you manage, thanking them for their efforts. You could take it a step further and write a personal thank-you card, or even throw in a gift card, swag, or some other token of appreciation.
2. Bring services onsite
Employees' lives are busy and can easily get out of balance. Consider having any of the following services brought onsite, perhaps one service for each Monday of the month.
Dry-cleaning: have someone pick up and return clothing items for employees at work.
Massage therapist: build in a paid break and allow employees to get a 30-minute neck massage.
Car detailing: who wouldn't love to have their car detailed while they're at work?
Healthy meal cart: find a restaurant willing to bring healthy meals to your break room or even cart them around from office to office, allowing employees to purchase healthy food without having to leave their desk.
When arranging businesses to come onsite, ask if they'd be willing to offer a discounted rate to employees if your Company is unable to pick up the tab. These simple services will be remembered as a thoughtful gesture that shows your company management understands employee stresses.
3. Host team-building activities
Team-building activities don't have to be cheesy. They can be as simple and fun as the following:
Pie-baking or chili-cooking contest
Dress-up for game day (Super Bowl, March Madness, NBA finals, World Series, etc.)
Casual office day
Board game tournament
Ping-pong tournament
Putting contest
Whatever you decide, be enthusiastic about it. Consider providing prizes for winners or participants to encourage more participation next time. Throwing in occasional team-building activities is an easy way to bring a sense of cohesiveness, loyalty, and bonding to your workplace.
4. Find reasons to celebrate
When work anniversaries are overlooked, employees may feel undervalued or unappreciated. Some employees may even plan to quit on their work anniversary. Take control by celebrating occasions, from work anniversaries to birthdays. And, while you're at it, remember to celebrate your Company's birthday and highlight the progress you've made over the years!
5. Ask employees for ideas
If you've read through this list and thought, "not for my workplace," ask your employees what they think would be motivational. Even if you do implement some of these suggestions listed above, be sure to involve your employees. They're more likely to be on board when they're involved with the process of creating and carrying out motivational activities. And there are plenty of other areas to focus on, too, such as health and wellness contests or educational seminars for a lunch-and-learn.
Transform Blue Monday into Motivation Monday and watch your work culture bloom. What's even better is you can implement these ideas any Monday to motivate employees throughout the year.
Book a consultation
For more ideas, contact your certified HR expert. Not a current client? Book a consultation and our team will be in touch with you shortly!
Related articles: