business guidance
Top PEO Companies in 2023
Choosing the right partner for your business is an important decision. That's why we've compiled and compared the top PEO companies of 2023.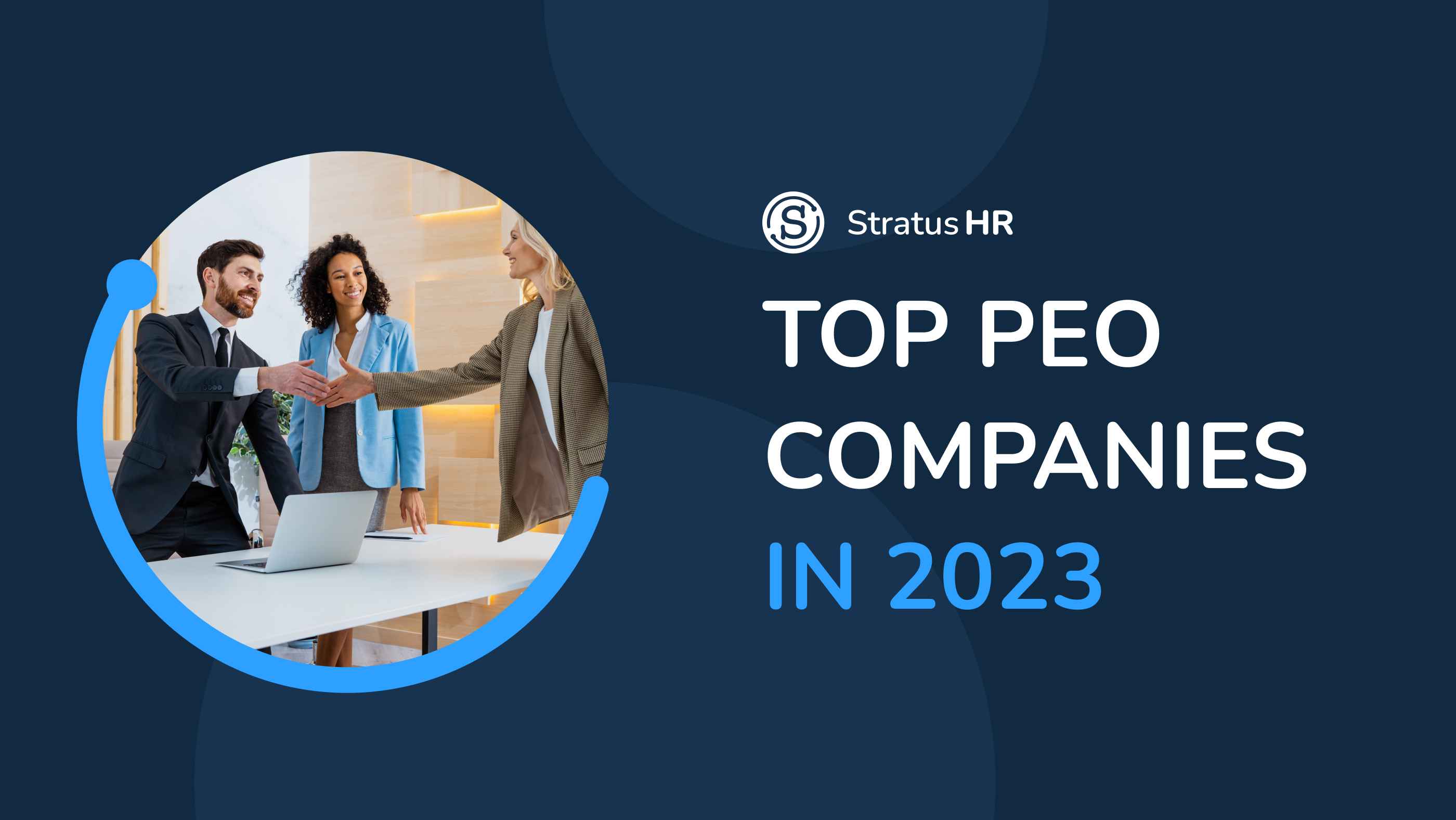 The new year is finally here, bringing with it the spirit of change. One thing that will continue to change in 2023 is the business landscape. People will continue looking for fulfilling work experiences that include opportunities to learn and grow, as well as value-oriented working environments.
One way that businesses can adapt is by outsourcing their human resources (HR) duties to a Professional Employer Organization (PEO). A PEO manages tedious HR tasks like payroll, benefits, onboarding, and other human resources responsibilities for their client's employees. This ongoing trend has been rising and is expected to continue rising in 2023 and the years to come. It's safe to say that PEOs are here to stay.
Federal and state employment laws are also at the forefront of change, making it increasingly difficult to be an employer. This adds fuel to the growing popularity of PEOs, with some market projections forecasting exponential growth in the PEO market through 2025. Partnering with a PEO helps your business minimize fiduciary liability, maintain compliance with ever-changing laws, and avoid costly mistakes.
What To Look For When Choosing a PEO Company
A good PEO allows you to gain back valuable time and avoid getting bogged down with administrative tasks. This allows you to shift your attention from doing transactional HR tasks to boosting employee engagement, retaining key talent, and growing your business.
While you're searching for the right PEO company, here are things you need to consider:
Determine Which Services You Need.

Some PEOs offer services such as recruitment tools, employee onboarding and paperwork, workplace policies, manager training, and so on. Make sure your chosen PEO aligns with your business's size and goals.
Find a PEO That Makes Life Easier. The right PEO provides the total package rather than a bunch of à la carte services and HR technology. Make sure you understand the services and technology they offer and that they seamlessly integrate into your business workflow.
Understand The Pricing Model. When it comes to cost, it's important to understand how the pricing model works for the PEO you're looking into. Ask the following questions: How does the PEO I'm considering collect payment? Do they charge a flat rate? Are there hidden fees?
To help you find the right PEO, here's a list of the top PEO companies heading into 2023.
The Top PEO Companies to look out for in 2023
1. Stratus HR
Stratus HR is a full-service human resource management PEO that has been perfecting its craft for over 20 years. For both novice office managers and experienced HR professionals, Stratus HR helps hundreds of companies throughout the US save time by offering customizable solutions while always keeping the human touch in HR. They are the leader in HR management, payroll, employee benefits and risk management.
In addition to a team of certified HR experts ready to help you navigate best practices, Stratus HR provides you with 24/7 access to their fully-integrated Human Resource Management & Information System. You'll also gain access to Fortune 500 employee benefits that will help with your recruiting and retention efforts in a tight labor market for a fraction of the cost.

2. Paychex
Paychex provides human resource management solutions for payroll, benefits, HR and insurance services. Customers of Paychex are paired with a dedicated HR professional to help outsource part or all of their HR operations, navigate employment laws, and make the most of their HR technology. Paychex is good for small businesses looking to create more comprehensive payroll services.
3. Rippling
Rippling's mission is to eliminate the administrative work of running a company by allowing you to manage and automate all of your people-based operations, from onboarding to offboarding. Rippling allows businesses to manage payroll, benefits, computers, and applications, all in one unified platform.
4. Engage PEO
Engage PEO offers comprehensive HR solutions for small and medium-sized businesses. Their suite of HR service offerings include health and workers' compensation insurance products, payroll technology, and tax administration.
5. ADP Total Source
ADP offers two different solutions to help users improve their HR and payroll processes. Their HR outsourcing solution allows you to outsource some or all of your HR tasks with the option to work with an ADP partner as an extension of your current HR staff. The second solution is their PEO option for full outsourcing alongside dedicated experts and technology for HR and payroll.
6. Insperity
Insperity offers full-service HR solutions that deliver employee benefits, risk management, and HR administration and payroll. Their HR technology combines software and a solution to help you manage your employees and support administrative efforts for bottom-line results.
7. TriNet
Founded in the San Francisco Bay Area, TriNet is a PEO that aims to serve small and medium-sized businesses. Their HR solution provides users with access to benefits, HR expertise, risk mitigation, and other services. TriNet focuses on providing the expertise needed to comply with federal, state and local regulations that govern payroll, benefits, terminations, and hiring.
These top PEOs allow you to focus on the work that really matters. From payroll to risk management, they look out for your interests every step of the way.
Choose The Best PEO Company to Partner With
Each PEO company provides a unique approach to HR outsourcing, so it's important to identify your own business needs and then research which services they offer. For example, are you looking to lower your employee turnover rate, need assistance with administering employee payroll and benefits, or want a better way to manage and monitor risks in your HR department? Understanding what your company needs from the PEO is a great starting point.
The next step to choosing the right PEO is to ask questions pertaining to your specific challenges. These questions may include which services fit your needs, how the pricing model works, and if the PEO you're interested in will be easy to integrate into your workflow.
Although handing over your HR tasks and obligations to a third party can be intimidating, it is an essential step in scaling your business. MetLife's U.S. Employee Benefits Trend Study revealed that 91% of employers reported having more satisfied employees when working with a PEO. Additionally, employers witnessed a 9% increase in productivity, a 10% increase in employee loyalty, and a 12% increase in engagement. Another study conducted by economist Laurie Bassi showed that businesses that use a PEO company have 40% higher revenue growth.
PEOs are becoming more popular as businesses discover how to reap the benefits of outsourced HR. They provide a full set of tools for improving employee retention and compliance while helping businesses of all sizes navigate human resources responsibilities like hiring, growth, and changing labor laws. With the right PEO, you'll gain access to a fully-integrated Human Resource Information & Management System and dedicated experts by your side to help transform your workplace. With the buying power of a PEO, you'll also get a host of big-business benefits for your small business.
Why Choose Stratus HR?
It's about more than just numbers to us. We go above and beyond to make sure you have everything you need to succeed by combining our powerful technology with HR pros ready to support you. Stratus HR was made by HR professionals, for HR professionals and novice office managers. With over 23 years of experience, we're in constant self-development to make sure we're always providing you with best practices.
Are you ready to learn more about the benefits of outsourced HR? Do your due diligence by booking a free consultation today with Stratus HR.